Start converting your PHP projects to desktop apps with ExeOutput for PHP
With ExeOutput for PHP, you can make ebooks, custom web browsers, database front-ends, games, interactive catalogs, financial programs, Rich Internet Applications (RIA) and much more by combining the power of PHP, HTML and JavaScript into software applications for the desktop. You can easily convert your existing web applications powered by PHP into native Windows applications.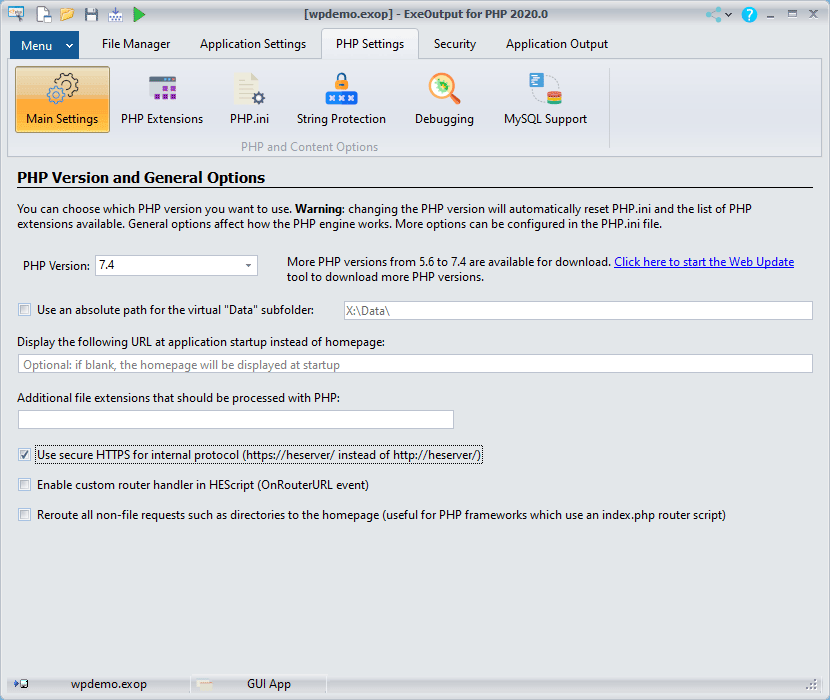 Applications made with ExeOutput for PHP run PHP scripts, PHP applications, and PHP websites natively, and do not require a web server, a web browser, or PHP distribution. They are stand-alone and work on any computer with recent Windows versions.
ExeOutput for PHP is a powerful website compiler that works with all of the elements found on modern sites: PHP scripts, JavaScript, HTML, CSS, XML, PDF files, Flash, Flash videos, databases, AJAX and assets. Combining these elements with the PHP Runtime and PHP Extensions, ExeOutput for PHP builds an EXE file that contains your complete application.
PHP frameworks such as CodeIgniter, Laravel, Fat-Free and so on are also supported.
End users run the compiled application as easily as they would run any EXE file. From their perspective, they're running a web browser that displays your PHP pages, as if these pages were hosted on a remote server. The browser's rendering engine is based on Chromium which ensures that your application can handle HTML 5 and CSS 3 natively even on Windows XP.